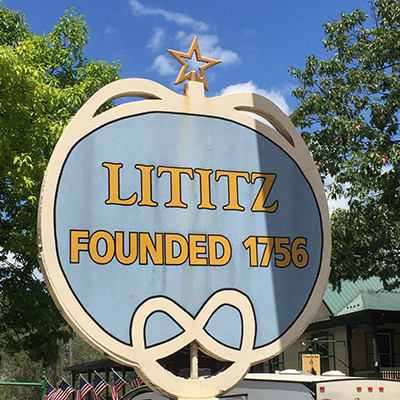 The town of Lititz lies amidst rich farmland just eight miles north of the city of Lancaster in the famed "Pennsylvania Dutch" country.
The community was founded in 1756 by Moravians fleeing religious persecution in Europe. The name of Lititz was given by Count Zinzendorf, the leader of the Moravians, after the town Lidice in Moravia. The beautiful church begun by these settlers in 1757 still stands in the church square surrounded by other buildings of that period and by Linden Hall, the oldest girls school in America.
After 1855 the community was open to others, and many members of other religious groups, such as Brethren, Mennonite, and Lutherans, came to play an increasingly important part in Lititz.
Today the prosperity of Lititz is based on agriculture, industry and tourism. We are located in the heart of one of the great tourist areas of our country, Lancaster County, Pennsylvania. We urge our policyholders and our agents to come and pay us a visit. You may be sure of a warm welcome here.
Budget Travel readers have voted and the results are in! Lititz, PA is America's Coolest Small Town of 2013. "Why we love it: You couldn't ask for a more beautiful location, in rural Lancaster County, Penn., with its rolling farmland and traditional Amish communities. Here, you can savor 18th-century history just a 90-minute drive from Philadelphia—a perfect long-weekend destination. What to do: Take a dip into colonial-era history at the Lititz Historical Foundation, the Johannes Mueller House, the Moravian Church, and a cemetery the locals refer to as God's Acre. Stroll through Lititz Springs Park, right in the middle of downtown, to take in the scenery and feed the ducks. Then step into a decidedly 21st-century culinary scene that includes Tomato Pie Café, Café Chocolate, Bulls Head Public House, Appalachian Brewing Company, Savory Gourmet, Olio, and Zest." – Budget Travel